If you're building a home in the Hill Country for the first time, you probably have questions about the process, the timeline, and the cost involved. And that's just the beginning! We've tackled a few of the most frequently asked questions about that will help give you an idea of what to expect.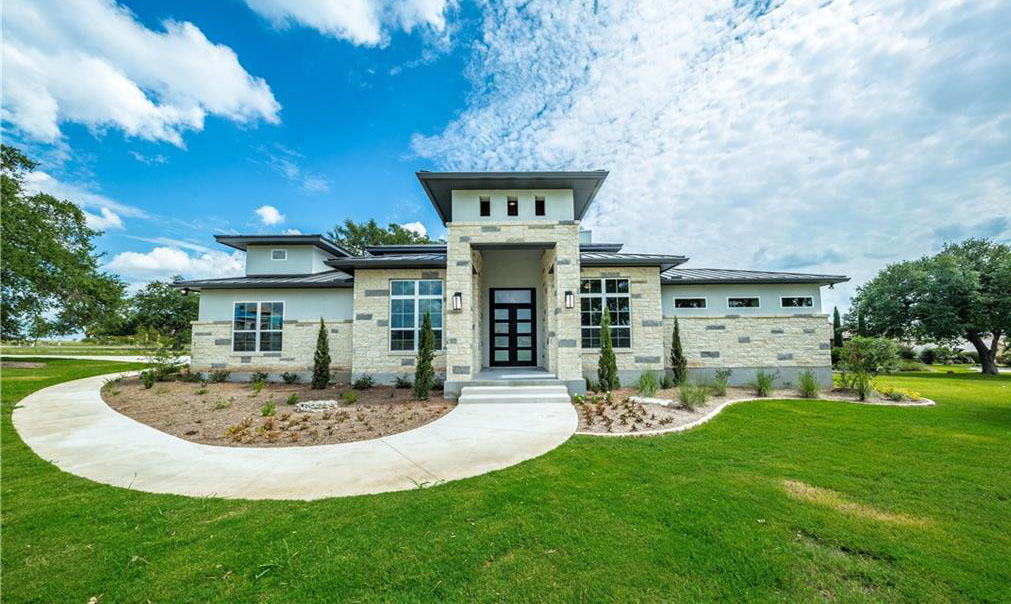 1. What will it cost?
The bottom line is a concern for everyone, whether you're building a custom home on a budget or have the opportunity to build the home of your dreams with minimal worry about cost. With so many variables involved in the custom home building process, from the price of the land to what it will take to make that land buildable, to the amount of square footage your home will include, and the features and finishes inside, it can take a while to work out pricing.
Some builders may offer an estimated price based on square footage and an assumed finish level. A more precise estimate is typically given during the design stage, when the size, style, and details of the home have been established. The final price of the home can vary from here, however, based on changes that are made along the way and any delays that push the timeline of the build, among other factors.
2. Are there things I can do to lower the cost of my custom home?
It can be easy to get carried away with features and finishes that push the price of your home to an uncomfortable level. That imported granite is just so pretty, and those exotic hardwoods…well, you're not sure you can live without them. And you might not have to.
One of the easiest ways to cut back is by swapping in some more budget-friendly items, and this is one place your Hill Country custom home builder can be invaluable. Your builder will undoubtedly have suggestions for different materials you can choose at a lower cost and should also have industry resources in place to help you key in on the fixtures and finishes that appeal to you, and your bank account.
3. How long will it take to build my home?
This will vary greatly depending on where you build, what you build, where you build, and how busy your builder is. Delays that arise because of bad weather or issues with some of the materials you've ordered can also push back your timeline. A builder will typically give you an estimated completion date, but remember it's fluid. The best way for you to contribute to keeping your construction timeline on track when building a custom home is to be prepared, make decisions quickly (and stick to them), and keep changes to a minimum.
4. Do I get approved for the home I want to build before I buy the land?
For many people, that's usually the process. Land loans differ from home loans in several ways—the length of a land loan is much shorter, for one. Not all lending institutions do land loans, and those that do may have stricter requirements for homesites, especially for land that is not improved. Many borrowers opt for a construction-to-permanent loan, which allows them to deal with only one loan from land purchase through to the completion of the home.
5. Will I need a septic tank?
Utility requirements vary depending on the type and site of the land. If you're buying land in a remote area of the Hill Country, where the land is unimproved, you'll most likely have to secure your utilities, and that probably includes a septic tank. Buying land in a masterplanned community often simplifies the process, and, in some cases, securing utilities is no more complicated than it would be when buying real estate in any new-home community.
6. How big a house can I build?
This will depend on the community and on the specific lot you are considering. Many communities have minimum size requirements and may also have specific rules regarding what size home you can build on a specific homesite, as well as how much setback you can and should have. Be sure to ask the sales associates in the communities you are considering building in before you purchase so you don't end up with land that won't work for the house you want to build.
7. Do I need to bring my own builder, or work with a builder the community provides?
This also depends on which community you're building in. Some communities have a list of pre-selected builders in the Hill Country you are required to use while others provide a list of preferred builders for those who need a referral. If you know you want to work with a certain homebuilder, make sure that's allowed before you buy land in the Hill Country.
8. Do I have to build within a certain timeframe?
In some communities, yes. In others, the choice of when to build is entirely up to you. Sales associates in specific communities or an experienced Hill Country real estate agent will be able to break it down for you.
9. I'm not sure where to begin. Will a builder have floorplans I can use for inspiration?
An experienced Hill Country custom builder should have floorplans as well as an abundance of pictures to help you design your custom home. Semi-custom homes in the Hill Country may also be an answer for you since floorplans are pre-designed to reflect modern needs and the features and finishes can be customized to individual specifications.
10. Will I have a Property Owner's Association fee?
In a masterplanned community, you can expect there to be a POA to maintain common areas and amenities. Most importantly, many land buyers appreciate having a POA because it helps to maintain property values.